Craigslist Flag Software
Craigslist Flagging Software
CraigsFlagger Pro Last Updated: April 24th, 2019 | Ver. 19. 0. 4 Our Craigslist flagging software comes in two different styles; CraigsFlagger Pro (both Craigslist flagging software & Craigslist ad reinforce software options) or Reinforcer (anti-flagging only). You can choose from the former two options just mentioned in order to select the software that is right for you! Our simple fast checkout will handle all the payments securely and deliver your software automatically. Our prices are a one time payment and not a monthly subscription. All Craigslist software updates are free for 6 months and come with the Ghostbusters Members section free! How to use our Craigslist flagging software Once you have purchased this our Craigslist flagging tool, you can find your Craigslist auto flagging software download here and the instruction manual is found here. Our software is very simple to use! This is how it works; First, search your target keyword on Craigslist's search page. All of the ads then come up with our flagging software embedded into the page. One button omits the ads not to be touched (your ads, and friendly competitors) Click the flag button next to that, and the software begins to flag all the ads left not hidden. Don't interfere with the cookies because you also need specific cookies to flag an ad. Our software makes sure the correct cookies are always in place. The panel of buttons on the under the search bar have 4 distinct functions. Features "Flag All" goes down the list and flags each ad that is not hidden/omitted automatically. The cookies are also ejected, and replaced with new ones. "Flag 4 X" goes down the list, flags each ad not omitted, ejects the cookies, reloads the page and repeats 4 times. "Flag Forever" performs this sequence continuously. We use this method to auto scan for new ads all day and auto flag them as they come up. The reload button stops the automated functions, ejects the used cookies, reloads the page, and replaces the cookies. (CraigsFlagger Pro version only) Both flagging engines allow you to choose which type of flag the flagger will give the ad. You can choose which flag you would apply, Prohibited, or the Reinforce option with CraigsFlagger Pro, then you can also choose to reinforce your own ads to defend your posts by visiting your own ads repeatedly while clearing the cookies between each cycle to cancel out some of the negative flags by changing the visits:flags ratio through this simple but effective method. Ghostbusters Membership In 2020 we revamped our members area entirely. We added a video tutorial series that describes how to successfully implement campaigns. We explore a great variety of Craigslist's built in hidden features and show you how to exploit them. It is important for us to teach you how to use Craigslist effectively without software so you can really understand the concept. Once you understand exactly how to place strong ads and how this works, you can then begin to move around other people's ads and put yourself above them by using tactics they have no idea about. Once you are proficient in this process, you can then use our software effectively. With any product purchased, Ghostbusters membership is included free! The access to our membership and free software areas will continue for the duration of the license. Free Software We have enhanced our free software downloads as well. Firefox is decided to block public access to all legacy software and Addons. However, we have compiled a substantial list of effective business management Firefox Addons that are compatible with the same version of Firefox our members are using. These legacy Addons have been preserved and made available in our Members software section. You can customize your browser with all the features and enhancements to suit your business needs. Emojis Emojis have been used on Craigslist for many years now. We have added an emoji toolbar Addon for quick additions of emojis directly into your Craigslist titles. We have also added a new emoji section within our members area for quick reference along with instructions. There are certain ways of including emojis that are not apparent to the casual observer so we describe the differences and provide examples. Craigslist IP Tools We have created a wonderful set of IP tools for our members to access free. WIth our IP and proxy tools, you can geoip locate proxies you find online. You can trace IP's, check to see if they are live, how fast & where they are. This application is also compatible with FoxyRevolver and adds a one click quick-add icon to each IP for simple fast proxy configuration. Our Craigslist IP Tools also has a section that saves every live IP address our members check, and share these with the group. You can check to see what your browser is telling Craigslist about you through browser fingerprinting. We also provide tools to check how stealthy your proxies are, and check the origin and geoip location of emails sent to you. Other Craigslist Software You don't need to buy another software to go along with CraigsFlagger Pro. We do however also offer much more Craigslist software in our Trinity Bundle. Each of our bundled Craigslist software has been designed to compliment each other. Our bundle will continuously enhance your overall Craigslist experience by adding features and diminishing repetitive tasks. ​ If you are looking for free Craigslist auto flagging software, we will be offering a craigslist flagging tool designed to Reinforce your Craigslist ads that can be accessed by joining our Free members club. A YouTube Video showing our Craigslist flagging software in action:
Craigslist Software Products
⚡ Desktop Extension Requirements: Chrome, Yandex, Opera & Windows, Linux, Mac.
⚡ Android Extension Requirements: Yandex, Kiwi & Android Phone or Tablet.

Software To Flag Craigslist Ads – 10/2021 – BestProductLists
Craigslist Flagging Software | Craigflagger Pro – All New…
Top
Craigslist Flagging Software allows you to omit ads not to be flagged, and flag the rest of the ads once, four times, or endlessly; Craigslist Anti Flagging Software allows you to reinforce your own ads. Omit all the ads that are not your own, and visit all of your own ads once, four times, or endlessly.
More Reviews ››
How to Flag ads on Craigslist and get it removed – Posting…
Save
But if you want to flag just a couple of ads occasionally, this method might work really well. Conclusion. Flagging other posts on craigslist is quite easy. You just need to be consistent and use proper tools and resources to be successful. Do not use any automated software to flag ads since it is against Craigslist …
How To Use Craigslist Posting Software Without Being…
Free
· Craigslist Posting Software 1. 0. Craigslist Posting Software 1. 0 does exactly what it says on the tin. It is free, simple to use, and does a credible job of helping you create multiple Craigslist ads. Originally designed for the avid real estate …
Craigslist Flaggers: Hire The Best Craigslist Flagging Service
Craigslist Flagging Service tools. You can go with the craigslist flagging tool to flag posts. It is nothing but the craigslist flagging software. This software helps you carry out flagging in no time. Right from getting a list of spam ads to getting relevant keywords, it does a whole work for users.
Fast Craigslist Flagging service |
We enrich our services with some updated tools that can flag your competitors' ads randomly breaking your competitor's techniques applied in the ads. We have formed a group having numbers of talented craigslist flagger who are expert in using software to flag your competitors' ads successfully.
Craigslist Flagging Software | Craigslist Software
· One button omits the ads not to be touched (your ads, and friendly competitors) Click the flag button next to that, and the software begins to flag all the ads left not hidden. Don't interfere with the cookies because you also need specific cookies to flag an ad.
Craigslist Ad Flagged Immediately? Why and How to Fix…
Now
· Craigslist can also penalize you for posting ads in a way that is deemed to be spammy, for example, too many ads or ads with spam links. However, the major cause of flagging is that Craigslist uses a user-generated moderation technique, where the Craigslist' community identifies ads they find inappropriate for removal.
Flagged for removal | Craigslist Software
Our software can both flag craigslist ads, as well as reinforce your craigslist ads. Our Chrome extension Craigslist Ad Preview is a free CL software suite which we use to manage all of our Craigslist apps and features. It includes everything you will need to have a successful Craigslist …
Craigslist Flagging Service – Remove ads Instantly…
Craigslist Flagging service has turn into a very recognizable trend in craigslist. Its craigslist flagging service is one of the best techniques to keep going your business. If you want to achievement in business especially by using craigslist platform you must flag your competitors & rsquo; ad you should flag your competitors & rsquo; ads…
How Craigslist Flag Ads?
Hot
· I was even more surprised when I saw craigslist flag ads in few minute after posting. After this happened a few times, I decided to check out the policies governing how craigslist flag ads. From the Craigslist page that explains flagging: Free classified ads receiving a sufficient number of qualified negative flags are subject to automated removal.
Best Craigslist Flagging Service -Remove Craigslist ads…
Our Best Craigslist flagging service assists you to remove every craigslist ads just few times. We have an expert craigslist flagging service tram who are expert in using software to flag your opponents' ads successfully. Our Low-cost Craigslist flagging service help you get back a satisfactory amount of money of your total Investment. You…
FAQs
Do you update the content in Software To Flag Craigslist Ads regularly?
Before releasing Software To Flag Craigslist Ads, we have done researches, studied market research and reviewed customer feedback so the information we provide is the latest at that moment. If you want the hottest information right now, check out our homepages where we put all our newest articles.
Does your answer for Software To Flag Craigslist Ads come with coupons or any offers?
We always prioritize the customer interests in all cases. Therefore, for some special products in Software To Flag Craigslist Ads, besides making the most updated suggestions, we also try to offer customer discounts and coupons provided by the provider.
Why is your answer for Software To Flag Craigslist Ads different from another website?
Each website has its own basis for making reviews. On our side, in addition to self-searching data or resources, we also refer to reviews from other sites about Software To Flag Craigslist Ads in order to give out the own result. However, all sites we learn from are reliable, reputable and prestigious.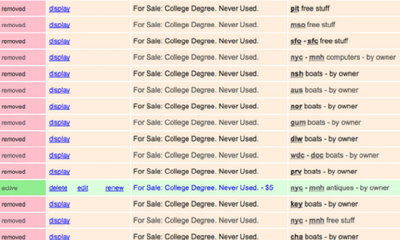 Why You Should Not Use Craigslist Flagging Software
Craigslist is undeniably the best place to buy or sell used goods and items. Many business owners use Craigslist to advertise their products or services because it is free, simple, and easy. With tons of ads created on daily basis, that means tons of competitors' ads strain your ads.
Need help with Search Marketing and Pay Per Click Ads? Click Here to Hire experts.
Not to mention a lot of scammers and fraudsters out there trying to steal your customers away. If that is the case, flagging post is a necessary thing to do in order to preserve safe community in Craigslist.
It is a craigslist flagger bot which helps the Craigslist user to flag other "non-friendly" ads automatically. Regardless of the reasons why the user flag other ads, this software allows the user to flag other ads with a single click of a button.
You may find spamming ads which by chance have the same niche as your business. You want to flag that spams to maintain good Craigslist community. But in common practice, auto flagging is an illegal act used by folks who want to get on the top search faster.
Using Craigslist Flagging software is a black hat technique which the main objective is to flag other ads to trigger Craigslist ads auto-removal system. The software developer designs the software to work with Craigslist's automatic spam removal feature.
No wonder there are a lot of "honest" and "courteous" ads got flagged without any reason. If you are the "victim" of the unfair ads removal, you'll know why you shouldn't use this craigslist flagger bot.
In the recent past many people use Craigslist flagging software ( and still few are using it) to target competitors in their area.
For instance, if a user wants to eliminate all "mover company ads" in New York city, they just needed to use the bot to automatically flag any ads that has a keyword "Moving" Except the flagger ads that he/she posted for his business. In no time, all the related ads will be flagged. The reason why people did this is obvious. They want to swim on top position on Craigslist and make more clients and money.
The thing is that Craigslist has been no. 1 American classified advertisements website with top traffic. And still, blackhat users want to eliminate their competitors' ads.
Using craigslist flagger bot is one step ahead to get banned. Craigslist clearly proclaimed about the rule in their Terms of Use page that no single user is allowed to use or provide software. Users are not allowed to use bots, scripts, crawlers, bots, spiders, etc. This rule is absolute and obvious. If you agree to this rule, your account should be safe on Craigslist.
What we meant was the manual flagging based on sensible reasons. For instance, you could flag posts from scammers. If you use Craigslist as one of your markets to sell your products or services, flagging scammers' posts is one of the things you can do to make sure that people have good experience in using this site. We can't deny the fact that people will stop using Craigslist if they have encountered spammers' ads for several times.
It is also one downside from Craigslist. Since anyone has the same privilege to post the ad, scamming activity frequently happens. But it is also your role to inform others about these scams.
The sad but true thing is that many competitors will use this trick to alter your potential customers. They will make your posts look like a scam.
If you experience this, the right thing to do is to flag this kind of post. Some competitors may use Craigslist to slander or spread the hate speech about your business. If you think that these acts is a defamation, you have all the rights to flag their posts.
It is very important that you do this with proper assessments in advance. Again, using Craigslist Flagging software is not recommended. In some cases, scammers will copy your ads and repost them.
This is another dirty trick to make your business looks like a clown and prevent the buyers from purchasing from legitimate sellers. Flagging this kind of posts is the best way to keep the Craigslist experience positive.
It is indeed inevitable, but solvable. We recently launched a service to take spammy looking craigslist ads down. We got some incredible results and you might want to check this if you are not able to flag any ads.
You may or may not reach all the spamming posts and bad posts, and this will take your time.
But rest assured, you are not alone. There are many other people in Craigslists which still respect Craiglist rules and want to make sure that these posts will not appear again. And you can flag others' posts without getting banned. Black hat or white hat? Your choice.
Frequently Asked Questions about craigslist flag software
How do you flag something on Craigslist?
How do I bypass Craigslist flagging?
How do I flag my Craigslist ad automatically?